LONDON ARTIFICIAL PUTTING GREENS
GO FROM BEGINNER TO PRO WITH HOME PUTTING TURF!
Golf is a very popular sport as virtually anyone can take part in it regardless of their level of skill, experience and ability.
BENEFITS OF ARTIFICIAL GRASS PUTTING GREENS
As noted towards the start of the article, it doesn't matter whether you are a serious and dedicated professional, a hobbyist weekend golfer or even a young child; you can benefit from practising your putting using an artificial putting grass. Obviously the more experience and trial and error of your putting skills you get on an actual golf course – the better. Although there really is no way you can beat being out there on a real course, an artificial putting area in your garden, a piece of land you own or even on your roof can be a great way for you to relax and work on your skills.
CONVENIENT WHEN YOU CAN'T GET ACCESS TO THE REAL THING
For those times when you can't get down to the local course, it can be great just to get out on your own little green and practice. It being on your own piece of land or property also gives you the advantage that you do not have a set time that you have to practice. If you wanted to, you could go into the garden from early in the morning, only stopping for snacks, to practice until you felt the time had been spent productively enough.
HOME ARTIFICIAL GREENS LOOK AND FEEL JUST LIKE THE REAL THING
Perhaps you are concerned that artificial grass is never going to match the real thing. With a company such as the London Artificial Grass Company and its products, this is simply not the case. Whereas some cheaper alternatives to real grass can be easily spotted as being fake, the synthetic grass that the company sells and installs will fool almost anyone and feel just like the real thing. You will experience the same bounce and the ball will act and move in the same way it does on the grass and green of a real golf course. So if you are looking to improve one of the most important parts of golf, the short game, then having one of these greens installed is certainly a great step to take.
Practice and dedication is the best way to tweak and hone your skills. One great way of doing this is by going to an outdoor putting green and practising, but as most of us are busy with our day to day lives it's not always possible to schedule time to hit the golf course or putting green just to practice. This is why it can be beneficial and great fun to invest in home artificial putting greens.
It has been possible to buy an artificial putting green for a long time already now, fifty years to be more precise. The first artificial grass putting greens of this kind were designed to help people who lived and worked in inner cities to find the time and have the space to exercise more. Since the 1950s, when the first artificial putting grass was made from synthetic fibres by a subsidiary company of Monsanto, this fibre has evolved and become the Astroturf we know today.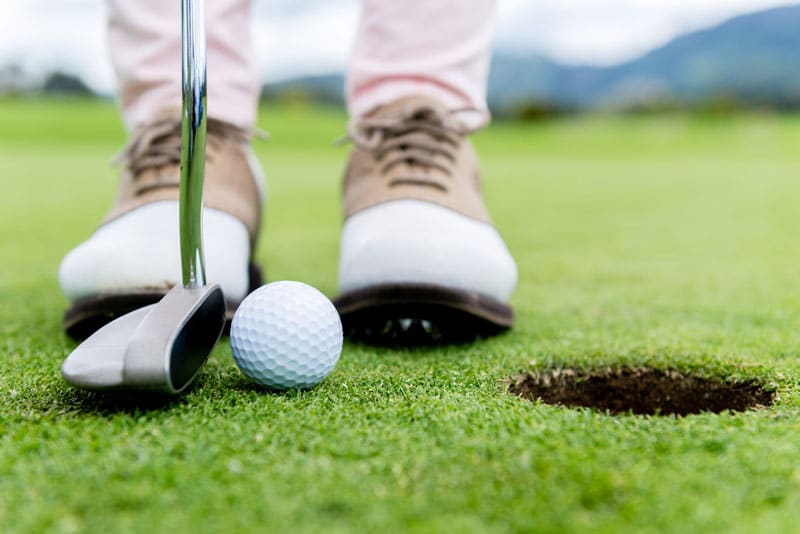 With the London Artificial Grass Company you have the chance to try a sample of the grass before you buy it. It makes a lot of common sense that before you spend a considerable amount of money on an area of artificial grass that you will want to be sure that it is worth the cost. One way to look at your options when buying artificial greens is to approach the process the same way as you approach buying carpets for your home. After all, they are made in a very similar way and depending on the price you pay and quality as well as the actual installation, your artificial grass could last a long time or it could wear and tear and ruin very quickly. The London Artificial Grass Company are confident in their artificial grass and therefore are happy to send out some free grass samples for you to try before you invest in a proper installation.
ARTIFICIAL PUTTING GREEN INSTALLATION
The actual price and time frame for fake grass installation will vary from project to project. It will always be charged at a rate of cost per square metre, but without one of the experienced and qualified installers being able to see the space, it would only be a guestimate. Along with the size of the area you want to be covered in the artificial grass, the actual access to the area, condition of the ground and any other work involved has to be taken into consideration. A quick survey is all that is required and you will be given an accurate quote for the work and installation involved in getting you the perfect green to practice your putting on.
FREE DESIGN AND MEASURE SERVICE ACROSS LONDON ENSURES YOU GET EXACTLY WHAT YOU WANT
It may be that you have the space and are definitely set on getting that practice putting area that you have always dreamed of, but are not sure where would be best to put it. There is no need to worry about that, as the London Artificial Grass Company has a dedicated design team that will come to your home, property or land to survey it and will help design everything as well as giving you a full run-down of the costs for the materials and time needed for your installation to be complete.
However, if you are comfortable with doing the brunt of the work yourself because you are either a landscape gardener by trade or an enthusiastic DIY hobbyist – you can purchase just the materials, such as the rolls of artificial grass that you need.
Once installed, they are very easy to maintain and keep in just-laid condition. Not only that, as a simple broom or hose can normally be used to clean them, it does not cost very much for their upkeep. Therefore if you are looking to the next best thing to practising your short game putting skills, you could do far worse than investing in one of London Artificial Grass Company's artificial putting greens.